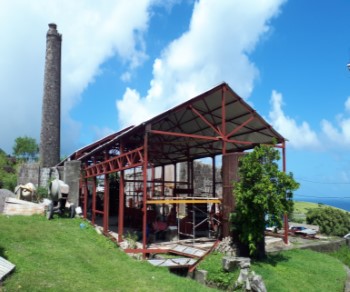 Restoration Work Continues on Spooner's Ginnery
Restoration work on the Spooner's Ginnery in Cayon began in June of this year and was originally scheduled to be completed by the end of September. However, due to a serious delay in the first few weeks of the project, the new end date has been set for November 2018.
The renovation work is being carried out by Steven Liburd Construction at a cost of EC $473,000.  This is being funded partly by a Grant from the US Embassy in Barbados through its Ambassadors Fund for Cultural Preservation and the Government of St. Kitts and Nevis.  The Project is managed by Lindbergh Alvaranga of Brisbane O'Garro and Alvaranga.
The project consists of several stages. Stage 1. Demolition, and removal of asbestos roof and old metal cladding. Stage 2. Alteration, cutting of damage structural steel columns, purlins, beams and remove rusted ends. The project is now in stage 3 which includes replacing the galvanized roof over the factory, replacing the floor and roof over the stone structure, which will be used as the information center, office and gift shop.